Regular price
$19.89 USD
Sale price
$15.99 USD
Unit price
per
Sale
Sold out
Tylers Coffee is the world's First and Only Acid Free coffee. We like to stick with the basics when it comes to your daily cup which is why we have brought our coffee down to a science in our Decaf Ground (12oz Bag)


We use only the finest AAA Arabica coffee beans, single-sourced from the healthiest farms of the prosperous Chiapas, Mexico. We pride ourselves in using only the best beans, which is why we have attained USDA Organic Certified AAA Arabica Beans to make every cup of our Decaf Ground (12oz Bag) as smooth as the last.
Using our proprietary and All-Natural Z-Roasting Process, we can safely prevent harmful acids that normally bloom during the roasting process. Click here to learn more about our "Z-Roasting" Process. These harmful acids are known for causing and contributing to stomach related modalities that plague 1 out of every 3 Americans. These problems can be as small as minor Acid Reflux to Severe IC and IBS. Click Here to learn more about the health benefits of Acid Free Coffee.
Our Decaf Ground (12oz Bag) is decaffeinated using a Swiss Water Decaffeination Process that safely and naturally decaffeinates the beans up to 99.8% caffeine free. Our process does not use chemicals unlike the ordinary decaffeination process that uses harmful chemicals. Paired with our All-Natural Z-Roasting process, we can maintain the USDA Organic Certification throughout the whole process.
-->
View full details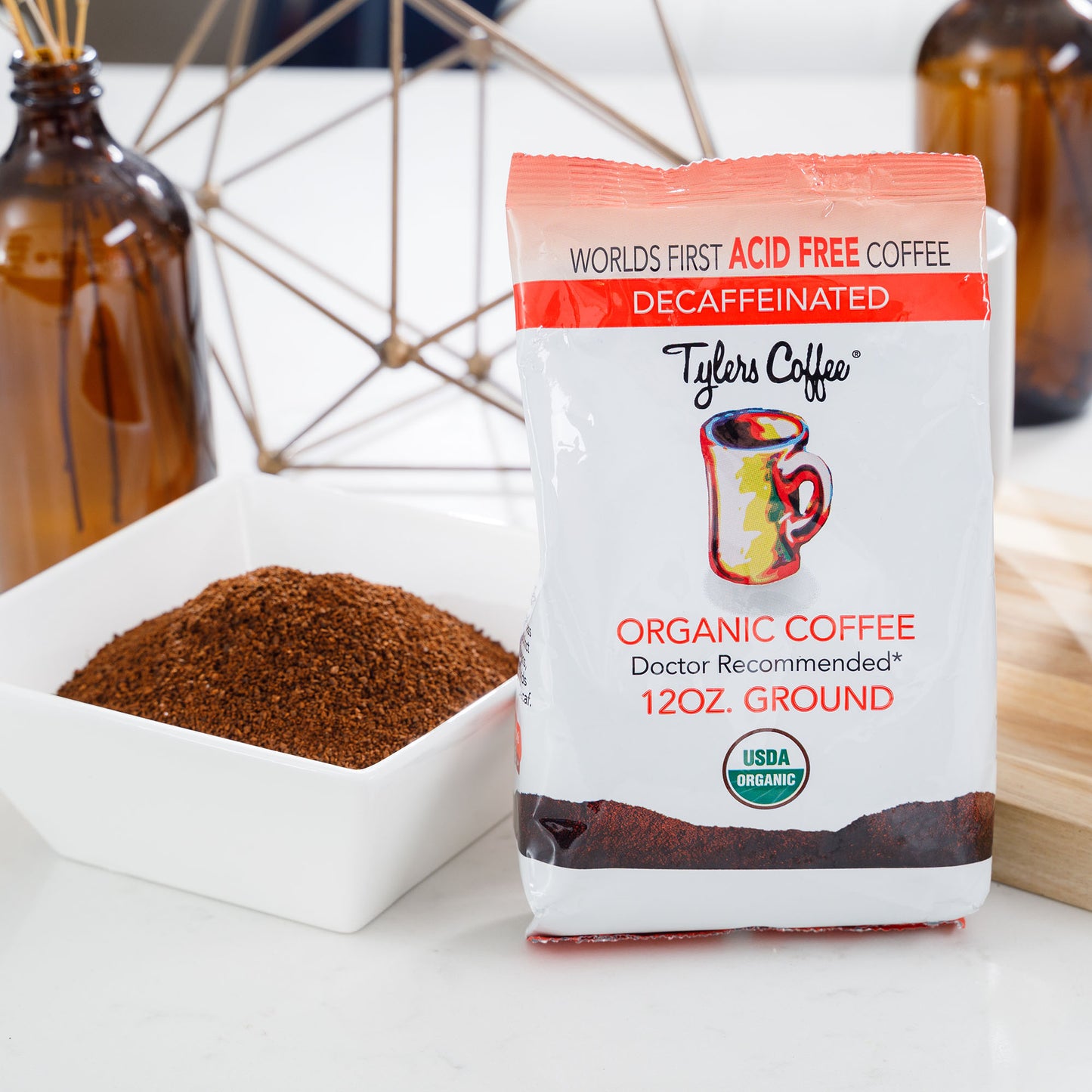 ABOUT OUR COFFEE:
Tyler and his dad created our proprietary Z-Roasting process. Using an all natural method, they were able to create a coffee that is not only delicious but acid free. Using 100% Arabica, single sourced coffee beans from USDA Organic Certified coffee plantations, we are able to control the quality of each and every batch of coffee that we make.
Because our roasting process is computerized and carefully monitored, we are able to ensure that each batch is consistent and that the results will be the same; EVERY TIME. This means that our customers are able to expect the highest quality from us - and consistency - whether they are buying their first bag or their 50th.
Today, every coffee blend on the market contains harmful Tannic and Lipid acids. These acids bloom during the roasting process. As the world's FIRST and ONLY Organic Acid-Free Coffee, Tylers Coffees® is able to provide a healthier option and solution for the more than 100 million individuals who have sensitive stomachs or who suffer from acid-related modalities. Tannic and Lipid acids are the cause of the bitter bite, upset stomach, aftertaste, and tooth enamel damage. Aside from these pesky side effects, these acids can form and aid in the development, or flare up of Interstitial Cystitis (IC), Overactive Bladder (OAB), Gastroesophageal Reflux Disease (GERD), Crohn's Disease, or Colitis.
Since our roasting and decaffeinating process is completely all natural, we are able to produce a product that is not only superior in quality but one that also yields the healthiest coffee for you. 
Best coffee!!
Love that I can drink coffee without worrying about a bladder flare or acid reflux! I've been purchasing this coffee for many years and I highly recommend it❤️
Tylers is great coffee, but customer services is less than stellar
Did not receive shipment. Cannot manage auto ship account. Customer service said weeks ago to wait a few days until they fix the software problem. Now it's September 20th and they're asking me for feedback. ;-) Feedback is this: you need to fix your company or stop trying to be an online business.
Fanatic
Just wanted to say I love Tyler acid free decaf Coffee and drink it every day. It's a great wake me up drink. Thank you for making a great ACID FREE coffee that works for a person with GRED. Sincerely fanatic coffee!
Best Decaf
Best tasting decaf coffee. Great if you have acid reflux. Have been drinking for a long time & intend to keep going. joining the subscribe & save is a great deal.
stomach saver
I cannot drink regular coffee, due to causing me very bad stomach pain. And I love the flavor of coffee and I especially enjoy that first cup in the morning, it is so relaxing and helps to start your day with a smile. Now, I can have that again thanks to this acid free coffee. Yes, it is expensive, wish it was a little cheaper, but I do not indulge in many things, so I make an exception for this. Frankly there is no where else to go, if you still want coffee and cannot drink the regular kind or even the low acid alternatives.
FAQs
IS your coffee acid-free?

Well We do not bloom the Titanic And lipid acids that are harmful to the Gi track. And cause inflammation that can over time cause prolonged issues. 
how do you roast your coffee?

Our roasting process is computerized and carefully monitored, to ensure our coffee is precisely roasted to create the perfect cup.

we are able to ensure that each batch is consistent and that the results will be the same, EVERY TIME. 
Is all coffee organic?

We are USDA Organic Coffee and single sourced to make sure we have the highest quality beans.
Is your coffee mold free?

We are tested to NOP mold standers .
Why is there a whole in the bag?

That's a great question we use a nitrogen purge process to suffocate out the oxygen, which will reduce the oxidation process. 
What is oxidation?

It's a natural process that occurs, when coffee is exposed to oxygen. It will start. To oxidize. Causing an unpleasant taste.
How long does it take to ship?

Shipping takes between 5-7 business days.