Join the revolution #drinkdifferent
We are the worlds first acid free coffee. The biggest change to coffee since decaf.


Who is Tyler?
Tylers coffee has been around for a while. As the story goes, he started at 15 years old, and is now able to share his gift and message to the world. Click below to watch and get to know him better!
CeleBREWties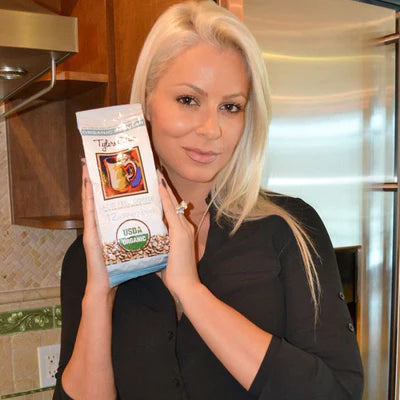 Tylers Coffee is proud to have Maryse Ouellet, French glamour model and WWE's femme fatale, as a fan of Tylers Coffees®. Often referred to as the "Sexiest of the Sexy," Maryse's entrance into the world of WWE led her to her first WWE Divas Championship title reigning from 2008-2009. Thanks for choosing Tylers Coffees®, Maryse!
Luke Goss is a British writer, actor and director. His autobiography, I Owe You Nothing, was a top ten best seller. Goss' transition to the silver screen is best highlighted with his most notable role as the villain Jared Nomak, in Blade II. Goss also stars as the first Frankenstein car driver in the Death Race trilogy. He also won the "Ultimate Badass Award" in 2010 for his role in The Dead Undead. We're glad to have Luke be a fan of Tylers Coffees®. Thank you, Luke!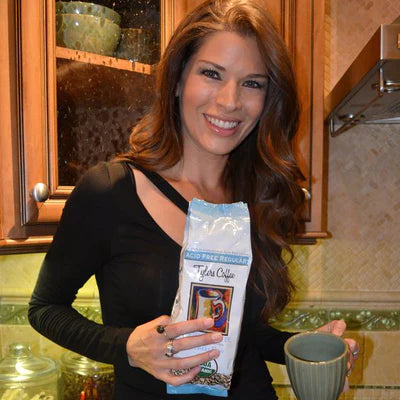 Adrienne Janic, also known as AJ, has great things to say about Tylers Coffees®! Adrienne is a host of TLC's Overhaulin', an original Fanta Girl, and a host on E! Entertainment Network. Thank you for choosing Tylers Coffees®, AJ!
Megan Hayes is an active model, actress, voiceover specialist, philanthropist, and a self-proclaimed "dork", a true renaissance woman! She has appeared in several TV shows and films, the most notable being her starring role in Restless Bell, and her appearance in the latest Hunger Games film, Catching Fire. Thank you for your support and love of Tylers Coffees®, Megan!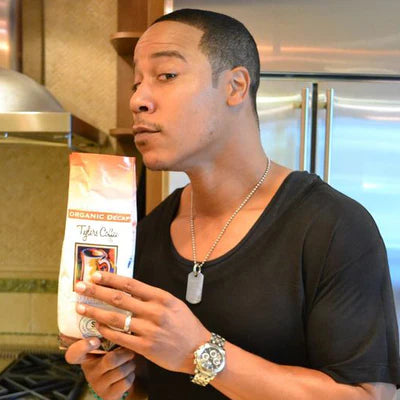 You know Brian White from hit Tyler Perry movies such as Good Deeds and I Can Do Bad All by Myself. He starred in the 2007 film, Stomp the Yard. Brian White is a diverse comedic actor who has worked with the best in the industry. We're glad to have Brian as a fan of Tylers Coffees®. Thank you, Brian!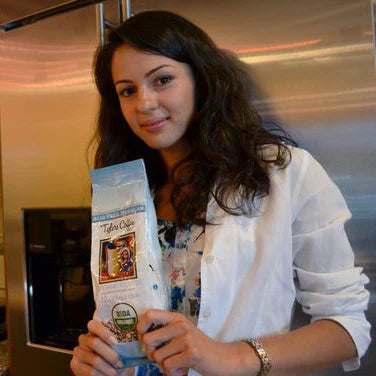 Annet Mahendru is a woman of versatile talents. A crossroads in Mahendru's life caused her to follow her heart and head to the west coast to pursue acting. It was there that she attended the prestigious Groundlings School, where she learned the ins and outs of improv and comedy. Annet can now be seen co-starring in the wildly popular FX show The Americans. Annet is our newest fan, and we couldn't be happier that she loves our coffee! Thank you, Annet, for your support of Tylers Coffees®.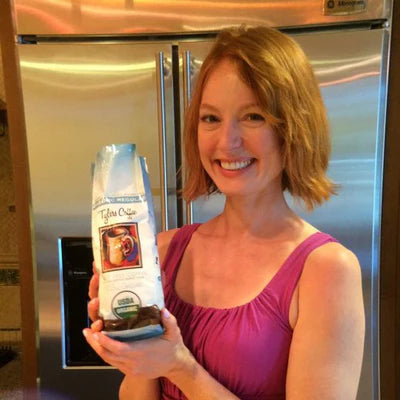 You know Alicia Witt from popular shows such as Friday Night Lights and Justified. She also acted with Sandra Bullock and Hugh Grant in Two Week's Notice. You may have heard her music in the movie Pasadena. When she isn't acting, Alicia lives her passion as a singer/songwriter. Thanks for being a fan of Tylers Coffees®!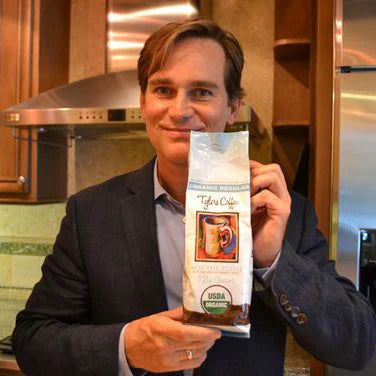 Philip Keene is a veteran of the TNT network. In 2005, he landed the roll of Buzz Watson on the critically acclaimed TV show, The Closer. When The Closer finally came to a close, after 7 successful years, he transitioned into the spin-off Major Crimes. Thank you, Philip, for being a fan of Tylers Coffees®!
Eve Mauro is a renowned actress and fashion model. She has an extensive resume, including appearances on popular shows such as: Dexter, Ugly Betty, and CSI. Mauro's talent is not only limited to TV, she has also had a major role in the 2009 adaptation of Land of the Lost, starring Will Ferrel.
Yesi Ortiz is a Tylers Coffees® fan! Ortiz' love and passion for music is what inevitably landed her in the exciting field of broadcasting. On weekdays between 10 and 3, Yesi is the warm, flirty host for the popular Los Angeles hip-hop station Power 106. We're so happy to have Yesi join Tylers Coffees® Celebrewties!
Vicente Fernández IV, the grandson of his senior namesake, who is the world renowned "King of Ranchera and Mariachi music" is a fan of Tylers Coffees®. Fernandez is an aspiring actor, who has just landed his first major role hosting a reality competition show. He also worked in the music department for the movie Jaatishwar. Thank you for being a fan of Tylers Coffees®, Vicente!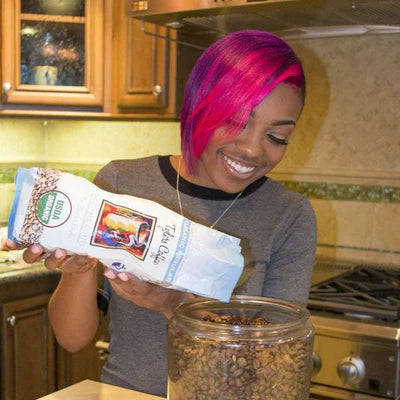 Deja Carter is a dancer, and she performs exclusively with Zendaya, a Disney actress, singer, and dancer. She has also hosted her own dance class in Philadelphia, teaching aspiring dancers her personal skills. She is also the daughter of Sundy Carter, a star on VH1's hit show Basketball Wives. Thank you, Deja, for being a Tylers Coffees® fan!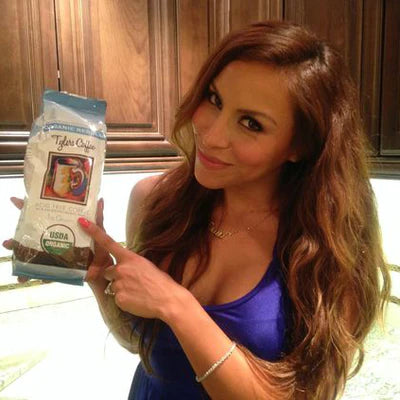 Janet. Britney. Christina. Beyonce. These are a few of the Super Stars Erin Yvonne has shared the stage with. Yvonne is a seasoned leader in the dance industry when it comes to anything stage, TV and film. She has been in films such as RENT, The Hot Chick, and The Comebacks. Yvonne has also made many appearances on the hit TV show Glee, and can also be seen on Community and How I Met Your Mother.
Brandi Burkhardt is an amazing vocalist and actress. She made her Broadway debut in 2008 , with her portrayal of Lucie Manette in the musical adaptation of A Tale of Two Cities. Burkhardt 's versatile talent can also be seen on the small screen, as she remains one of the lead stars of Heart of Dixie. Thank you, Brandi, for being a fan of Tylers Coffees®.
Fashion tycoon and super model Courtney Bingham-Sixx dares to be different. Like her husband, she is not afraid of branching out and making a name for herself. Courtney has developed her own swimwear line, has produced and starred in TV series, and MORE! Thank you for joining our Tylers Coffees® Celebrewties club, Courtney.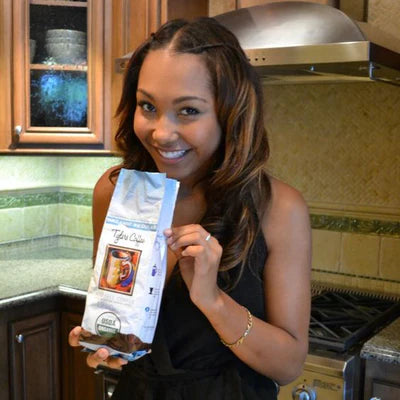 Parker Posey is an American model and actress. Modeling since she was two years old, she has been featured in a variety of different campaigns, the most noteworthy being Old Navy. She is most famous for her role on My Wife and Kids, where she played Kady Kyle, the daughter of the hilariously funny Damon Wayans. Thank you for being a fan of Tylers Coffees®!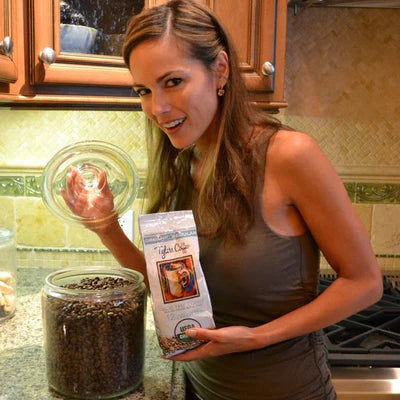 Terri Ivens is an actress and producer, known for All My Children, The Bay and Marked for Death. Of course, her portfoli extends way past that. She's done a lot of impressive work - we're glad that we made the cut. Thank you, Terri, for being a fan of Tylers Coffees®!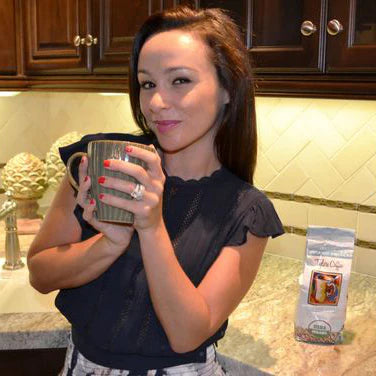 Danielle Harris is a Celebrewties member! Harris is an actress who has always had an affinity for the darker roles, even as a child. Her breakout role was her portrayal of Jamie Lloyd, in the wildly popular Halloween franchise. She also had a starring role in the 2009 television show Fear Clinic. We're happy to have Danielle as a fan of Tylers Coffees®.
Eugenia Kuzmina is a Russian born actress, comedian, and couture model. She has done countless ads for couture designers, Hermes, Armani, and Dior, just to name a few. Kuzmina also has an exciting roll in the upcoming film, "Rock the Kasbah", starring Bill Murray. When Eugenia isn't acting or modeling, she is performing comedy at the famous Comedy Store and Flappers. Thank you, Eugenia, for your support of Tylers Coffees®.
find us at: